Learn Karate "The Old Way"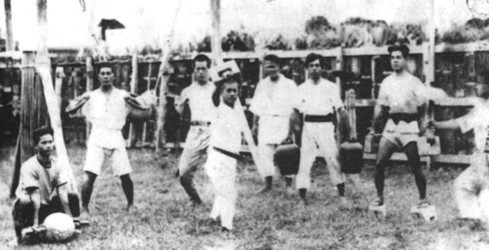 Okinawan Goju-Ryu Karate & Kokusai Ryukyu Kobujutsu
In Okinawa for generations instructors provided karate lessons from private dojos commonly attached to their private residence. This non-commercial approach provided a optimal environment for students to learn karate and master their art. Class sizes were limited to a small number of students allowing the instructor to provide each student with a high level of personal attention and focus in every class.
In this spirit, Redlands Traditional Martial Arts Goju-Ryu Karate & Kobudo is truly a hidden gem in Redlands, California.
Learn Karate in a traditional, non-commercial, dojo located in the private home dojo of Sensei Walker.
We accept student from ages 10-99.
Classes are limited to under 8 students to insure every student receives personal attention in every class.
Due to reduced overhead, classes can be offered for just $50 per month.
Dojo visits are by appointment only.  If you would like to set up an introduction to learn more about our program, contact us HERE.